This past Sunday, the husband who shall henceforth be renamed invisible husband (inside joke), my friend Mandy and I went to the Thai Buddhist Temple in South Tam. . . South. . . near. . . well, OK, its not
south Tampa
its more like in between Brandon and Ybor off of 301 (where you probably think the Tampa Bay would be, but there is land there).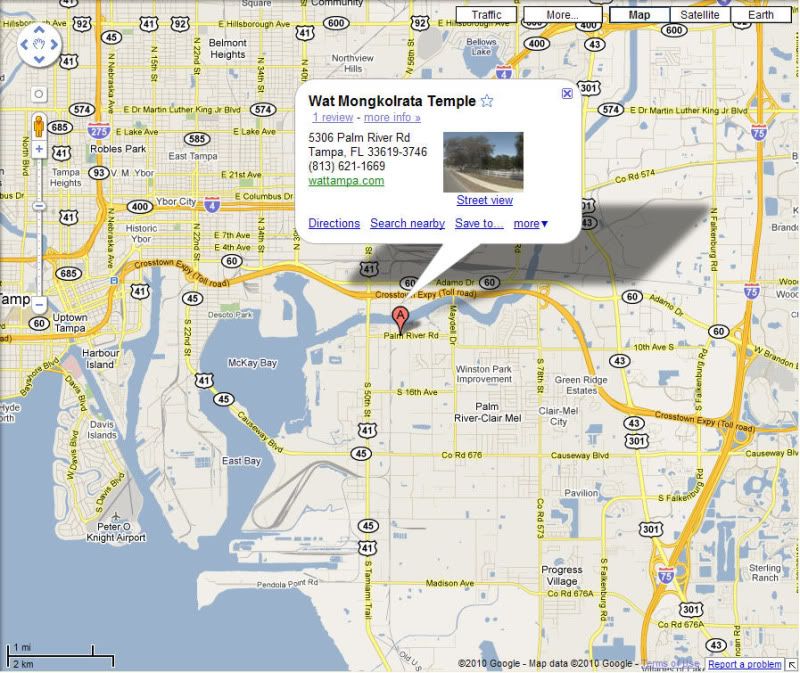 Anyway, the Thai Temple is located in the Palm River section of Tampa and is open to the public on Sundays from about 11 am to 2 pm.
I had the pleasure of finding this little gem thought one of my coworkers almost a year ago. Every Sunday they serve up homemade Thai food for donations to the temple. The food is phenomenal! and I promise that I will start taking more pictures with a better camera!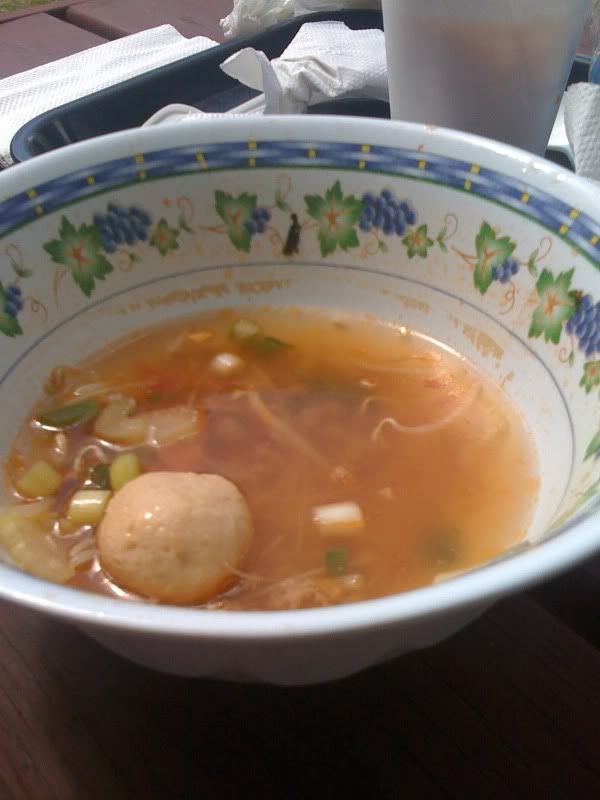 This is their tasty Thai (ramen style) soup. We just learned this weekend that you can order in "small" "medium" and "large" which doesn't mean size, it means noodle size. Silly us have been ordering the "small" thinking that we couldn't eat more than a bowl this size!Friends and Family! I would like to direct you to the first picture of food in this blog. See that whitish ball of something? It has been a year but I finally discovered just today what that is! We have been debating it for quite a while and I am pleased to finally be able to say that I not only know what it is, but that it is quite tasty. That my friends is a FISH MEATBALL!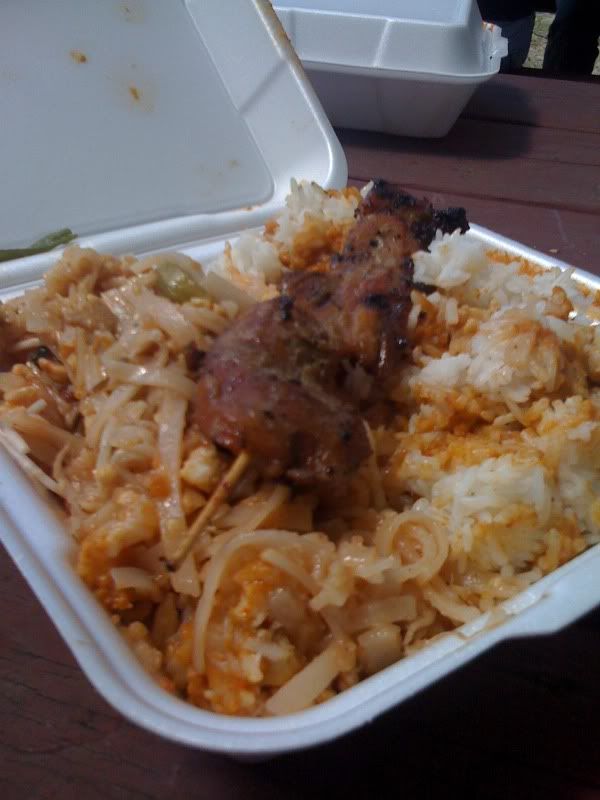 They also have pad Thai, and tons of curries just to name some of their savory dishes. I recommend their curried pumpkin! Did I mention the meat on a stick? Cant go wrong with meat on a stick!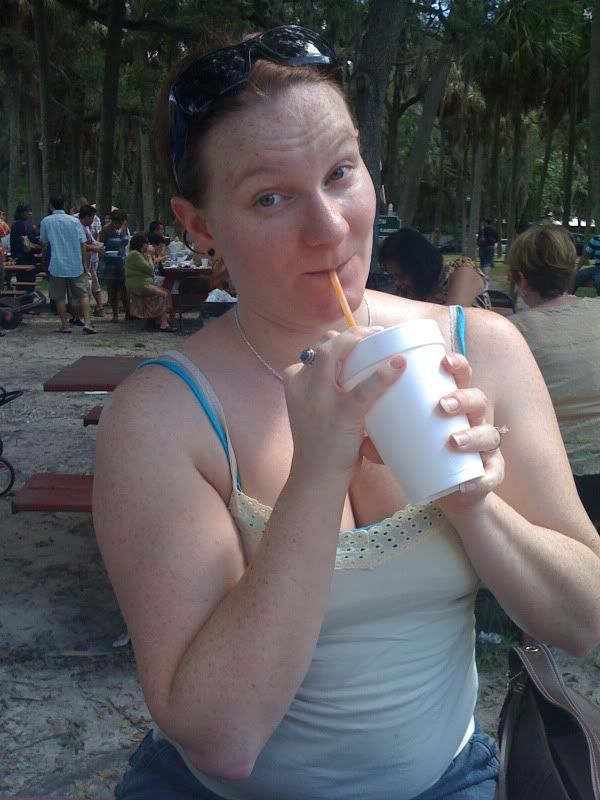 Of course they have Thai tea (for $1). I like to sit in front of the Thai tea lady and order one and finish it in front of her and order a refill. It makes me happy :)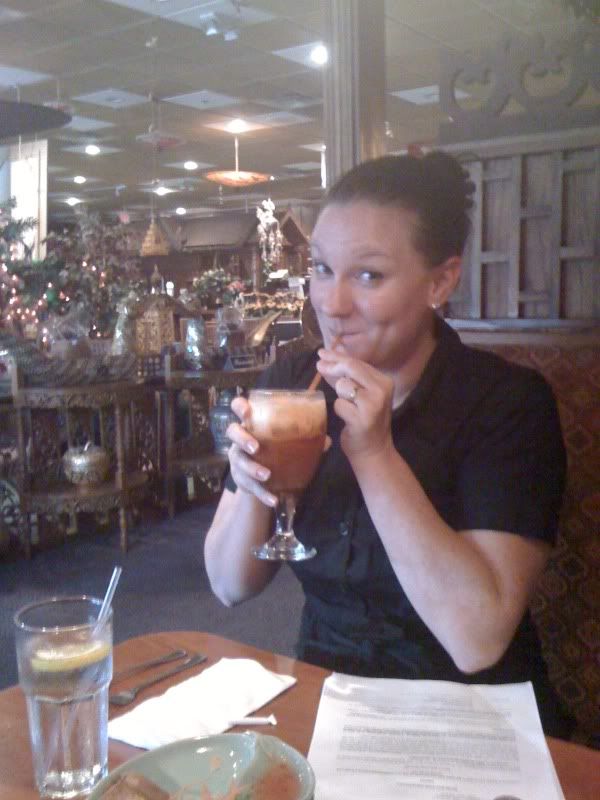 As you can see I LOVE thai Tea
The Thai people love their sweets as well. They have a huge table devoted to their desserts and we are making it a personal goal to try everyone. . . unfortunately we are not making it a personal goal to take a picture of everyone :( so I leave you with a pic of my friend Mandy (cuz shes a sweety!)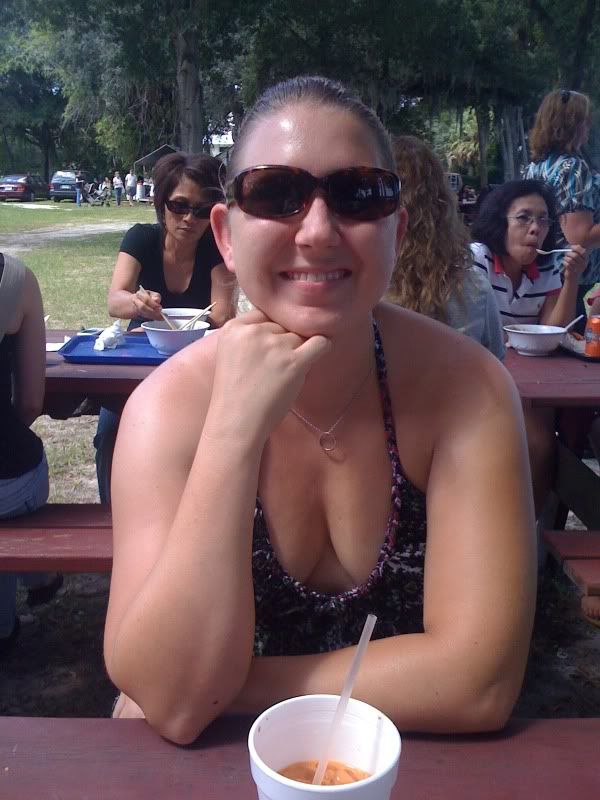 Seriously though, we have tried their tapioca, their coconut puddings, their black sticky rice with mango (yum), and my personal favorite their black sticky rice with custard on top. I have been known to drive to the Thai Temple just to get that dessert. This last time we tried their pumpkin custard. It was really bland :/
There's another station that just fries up yucca banana and other yummies. Those were good but not worth the 1 hour wait.

Overall, I would really recommend this tasty Tampa treasure to anyone who enjoys Thai food. It is tasty and very cheap. I think 3 of us spend less than $30 for our lunches with plenty for another lunch or two later this week.
Any other Tampa gems I need to discover? Come on! I know you can think of at least one!!!