in hopes that someone will make it for me! I am not quite a baker yet.
Anyway, found this recipe through Slashfood.com and I believe it originated somewhere on the Samual Adams website, but I couldn't find the link.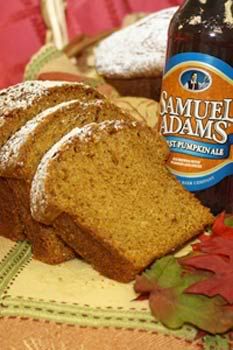 Photo Credit: Samual Adams
Samuel Adams Harvest Pumpkin Ale Bread
Recipe created by Carlene O'Garro for Samuel Adams Brewing.
1 1/2 cups granulated sugar
1/2 cup canola oil
2 large eggs
1 cup Harvest Pumpkin Ale purée (directions below)
1 3/4 cup all-purpose flour
1 teaspoon salt
1 teaspoon baking soda
1/2 teaspoon baking powder
1 tablespoon pumpkin pie spice
Powdered sugar (for dusting)
Preheat oven to 350 degrees. Combine the sugar and oil in a mixing bowl using an electric mixer with paddle attachment on medium speed. Slowly add the eggs.
Stop the mixer and add the Harvest Pumpkin Ale purée (directions below).
Turn mixer to low-medium speed and leave it running for 4-5 minutes. In a separate bowl, combine all the dry ingredients.
Stop the mixer and add the dry ingredients. Mix for 1 minute at low speed or until all the ingredients are mixed together.
Pour the mixture into a greased 9-by-5-inch loaf pan, leaving room at top of pan for bread to rise.
Bake for 60 minutes. Check bread by sticking the center with a knife (when the knife comes out clean, remove from the oven). If needed, bake for another 5-8 minutes or until knife comes out clean.
Once the bread has fully cooled, finish with a light dusting of powder sugar. Serves 8.
Per serving: 434 calories; 15 g fat (1.5 g saturated fat; 31 percent calories from fat); 70 g carbohydrates; 53 mg cholesterol; 492 mg sodium; 5 g protein; 2 g fiber.
Pumpkin Ale Puree
1 (15-ounce) can pumpkin puree
2/3 cup granulated sugar
1 bottle Samuel Adams Harvest Pumpkin Ale
1 teaspoon pumpkin pie spice
Combine all the ingredients and stir slowly. Set aside until ready to use.
What are some other good fall recipes you can think of?