Peach Melba is also one of those gourmet desserts you get in a post restaurant that is deceptively simple to make. I stole. .. uh. . .borrowed this recipe when I had my not-so-secret love affair with Nigella Lawson (Nigella Feasts) last year.
Ingredients
Peaches:
• 3 cups water
• 3 1/2 cups sugar
• 1 vanilla pod, split lengthwise
• 2 tablespoons lemon juice
• 8 peaches
Raspberry sauce:
• 3 cups raspberries
• 1/4 cup confectioners' sugar
• 1 tablespoon lemon juice
To serve:
• 1 large tub vanilla ice
Directions
Put the water, sugar, lemon juice, and vanilla pod into a wide saucepan and heat gently to dissolve the sugar. Bring the pan to the boil and let it bubble away for about 5 minutes, then turn the heat down to a fast simmer.
Cut the peaches in half, and if the stones come out easily then remove them, if not then you can get them out later. Poach the peach halves in the sugar syrup for about 2 to 3 minutes on each side depending on the ripeness of the fruit. Test the cut side with the sharp point of a knife to see if they are soft, and then remove them to a plate with a slotted spoon.
When all the peaches are poached, peel off their skins and let them cool (then you can remove any remaining stones). If you are making them a day in advance then let the poaching syrup cool and then pour into a dish with the peaches. Otherwise just bag up the syrup and freeze it for the next time you poach peaches.
To make the raspberry sauce, liquidize the raspberries, confectioners' sugar, and lemon juice in a blender or a food processor. Sieve to remove the pits and pour the puree into a jug.
To assemble the Peach Melba, allow 2 peach halves per person and sit them on each plate alongside a scoop or 2 of ice cream. Spoon the raspberry sauce over each.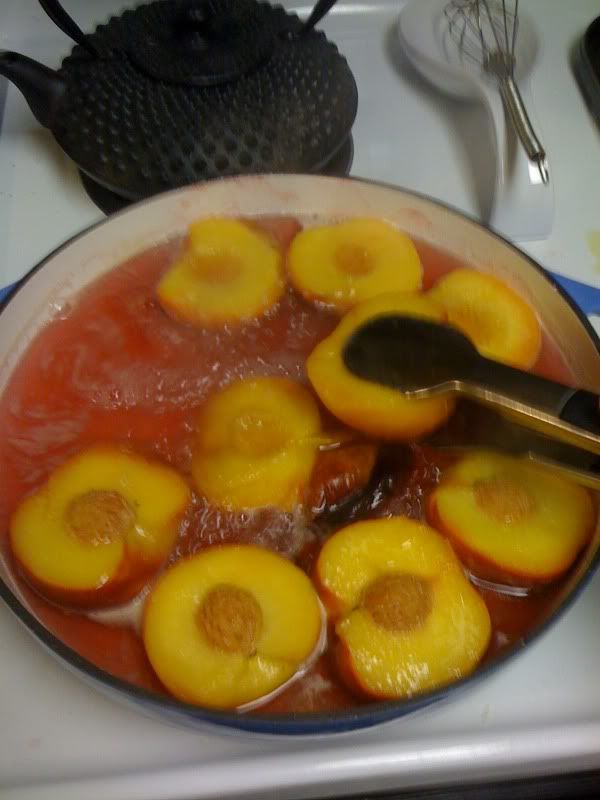 I love how the peach skin just comes right off after a minute in the poaching syrup. The peach stones gave me a bit of trouble, but that's because my peaches were just this side of under-ripe. I tell you what, the raspberry sauce gave me hell. I didn't have a sieve big enough to get rid of the raspberry seeds, but I had a tea strainer (1/3 cup size), that took forever. What's awesome about this recipe is that it only takes about 10 minutes to make as well (unless you are trying to strain raspberry puree through a tea strainer), and when you're done, you have this delicious hot pink peachy syrup that you can stick in your freezer to use on other desserts!