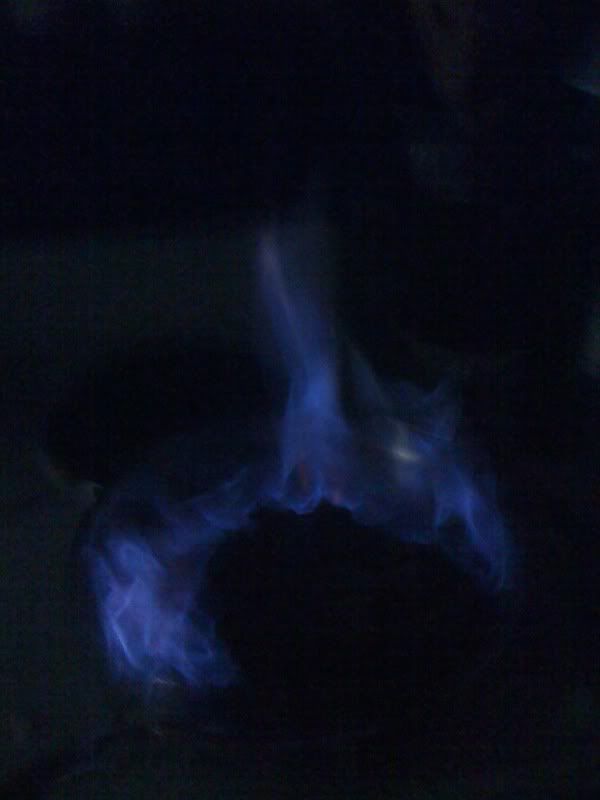 Today I would like to talk about the gourmet desserts Peach Melba and bananas foster. The desserts you find in the super posh restaurant that cost $14 a person (you know who you are BURNS!—not my friends, the restaurant!) I remember my early 20's going to Burns desert room and shelling out the $14 happily because I actually thought bananas foster was this complicated thing that I would never be able to do at home. WRONG! Part of me realizes that I was paying for the experience as well, but I never thought the majority of that money was for the atmosphere!
That said, Bananas Foster is SUPER EASY and so is Peach Melba.
Bananas Foster recipe courtesy of Alton Brown (Good Eats )
Ingredients
2 tablespoons unsalted butter

1/4 cup (1.75 ounces) dark brown sugar

1/4 teaspoon ground allspice

1/2 teaspoon freshly ground nutmeg

1 tablespoon banana liqueur

2 under ripe bananas, sliced in half lengthwise

1/4 cup dark rum

1/2 teaspoon finely grated orange zest
Directions
Melt butter in a 10-inch heavy skillet over low heat. Add brown sugar, allspice and nutmeg and stir until sugar dissolves. Add banana liqueur and bring sauce to simmer. Add bananas and cook for 1 minute on each side, carefully spooning sauce over bananas as they are cooking. Remove bananas from pan to a serving dish. Bring sauce to a simmer and carefully add the rum. If the sauce is very hot, the alcohol will flame on its own. If not, using stick flame, carefully ignite and continue cooking until flame dies out, approximately 1 to 2 minutes. If sauce is too thin, cook for 1 to 2 minutes until it is syrupy in consistency. Add orange zest and stir to combine. Immediately spoon the sauce over bananas and serve. Serve with waffles, crepes, or ice cream.
I don't know about you but the only thing I didn't have at home was the banana liqueur. I would love to tell you that I went out and bought it and followed the recipe to a tee, but that's not how I roll. So, I just used some extra rum: no harm, no foul! (PS do NOT use high octane rum! It's gross!)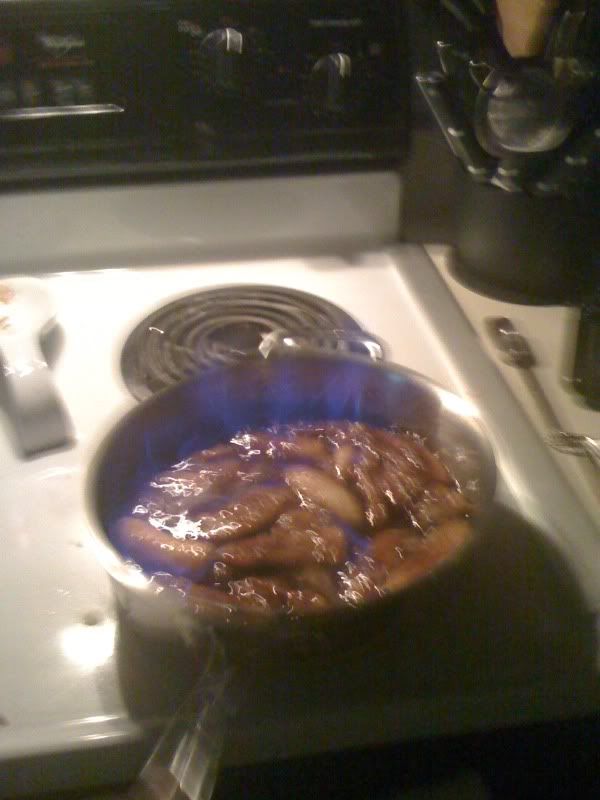 So I apologize for the blurry picture. See, I was jiggling the pan to burn off all the rum at the same time I was taking a picture. I'm just lucky I didn't set my phone on fire, really. Oh! And by the way, you are supposed to take the bananas out of the pan before you add the rum and set it on fire. I didn't read the instructions very well :-( Other than that, it was very tasty and all you need is a little vanilla ice cream to finish this beauty off. It will feed 4 (or two people for dinner and two people for breakfast, which is the way I prefer it ;-) ) Did I mention this takes like 10 minutes to make?
Watch out for Pt. 2 of this post where I talk about Peach Melba!